Stop the Mozzies & Midges

- NO DEET or Picardin
- Clinically Proven APVMA approved
- Smells great and feels amazing!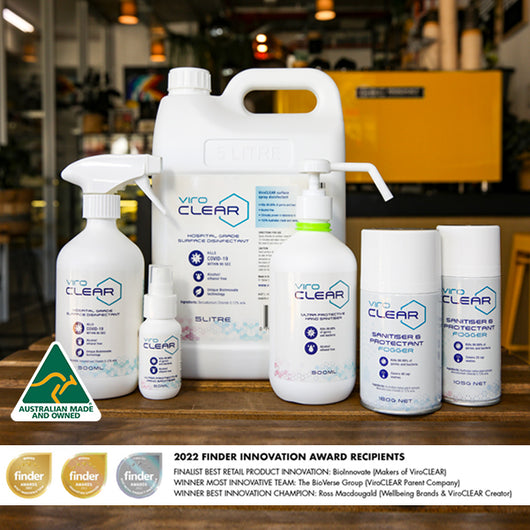 ViroCLEAR Protection
FINDER INNOVATION AWARD RECIPIENTS 2022
- WINNER Innovation Champion
- WINNER Most Innovative Team
- FINALIST Best Retail Product Innovation
Experience the power of ViroCLEAR, non-alcohol disinfectants & hand sanitisers with BioInnovate technology. Kills 99.99% germ & bacteria and made in Australia with native plant extracts. Rigorously tested to ASTM standards for exceptional antimicrobial defense. Ideal for alcohol-free seekers and those who are conscious of harmful chemicals.
ViroCLEAR products, include foggers, surface disinfectant and hand sanitiser to ensure effective sanitisation with best-in-class benefits.
New products
Explore our newest range of products.

Interview with 9 News
Channel 9 visited the Aussie Pharma Direct head office to interview Managing Director, Daniel Seldon, about the Fanttest 3 in 1 Antigen tests.
Australian Made

At Aussie Pharma Direct, we're passionate about supporting local businesses and communities. That's why we've partnered with several local manufacturers and suppliers to source our products, offering an extensive range of high-quality Australian-made products that cater to our fellow Aussie's health and safety.
Aussie Glow: A-Beauty's Eco-Friendly Skincare Domination

What You Should Know about Pain Relief Creams

Hidden Germs at Home: 7 Areas You Need to Pay Extra Attention To

Your Spring Clean Checklist: Essentials You Need